Back to School: The Importance of First-Day Traditions
Even if you are sad to see the summer go, there's no denying the excitement a new school year brings. Get your kids, and yourself, motivated for a fresh start this year and build lasting memories by starting back-to-school traditions you can repeat each year. Remember to keep it simple because the tradition itself doesn't matter as much as the goal of easing children's transition back to school with a special memory. To help parents create traditions that are just right for their family, we reached out to see what traditions others have already established, and got some great answers:
Laura P. says her family will "

usually go out for ice cream to sit and talk about our first days!! They always get a kick out of ice cream before dinner."

Rebecca B. keeps her back-to-school tradition alive by taking her son to breakfast on the first day, just like her mom did with her.
Chari S. and Cara B. take pictures on the first day!
Stephanie K. makes sure the first day is special by "

baking a skillet chocolate chip cookie and writing 'Happy 1st day of __ grade!' Then we take photos in her 1st day of school outfit." 
We also pinned lots of great back-to-school ideas, tips, and tricks to our Back-to-School Pinterest Board and included links below. Look around, put your own twist on something, or come up with something totally original! 
via K12
Taking a photo of your child on their first day of school might be the most popular back-to-school tradition.  We created these printable first day of school photo signs for the perfect photo prop! Just click the grade(s) you need and print! If you decide to share on Instagram or Facebook use #findyourspark so we can see!
Preschool • Kindergarten • 1st Grade • 2nd Grade • 3rd Grade • 4th Grade • 5th Grade • 6th Grade • 7th Grade • 8th Grade • 9th Grade • 10th Grade • 11th Grade • 12th Grade
Take traditions from other holidays and make them work for a back-to-school tradition. For example, put a twist on the concept of New Year's Eve and celebrate School Year's Eve! Set the mood with some decorations and get excited for all of the accomplishments this school year will bring.
via Happy Home Fairy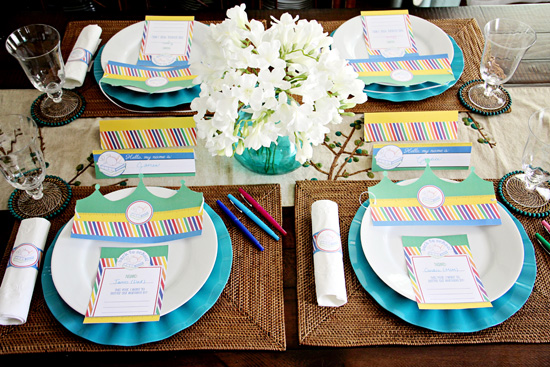 Back to school is a great time to make new goals, and this dinner party is the perfect way to do just that with the whole family!  It can include goal setting cards, name tag place settings, napkin rings, and fun hats for everyone to wear!
via The Dating Divas
Back-to-school pictures are classic, but why not put a spin on it and have your kids write or draw a little bit about themselves? Have them do it again at the end of the year and enjoy seeing the differences!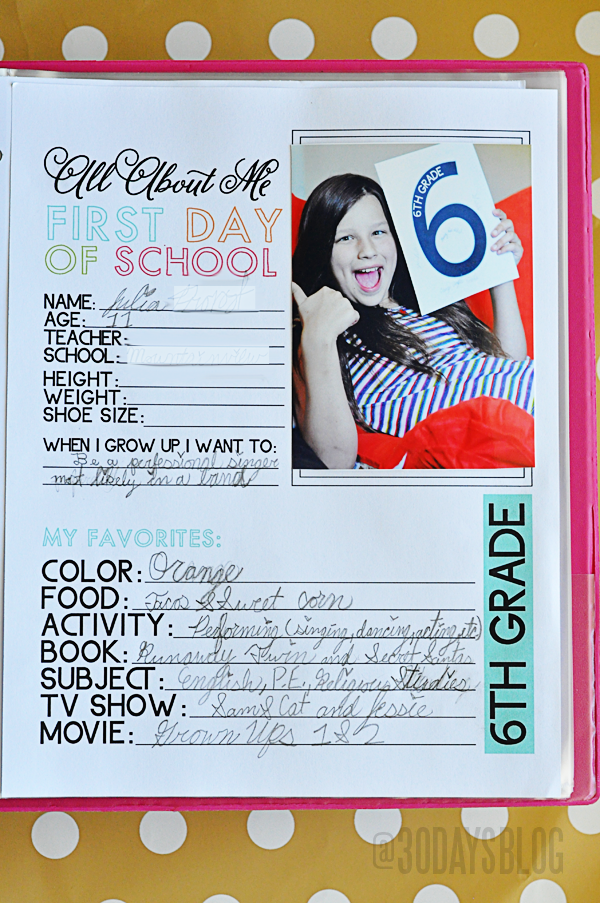 Start a "Back-to-School Binder" for each of your children.  Not only will it help you get organized for the new school year, but it's also a great place to keep and store their school memories throughout the year.
Make the first day of school extra sweet with clever back-to-school candy grams using Red Hots, Airheads, Extra gum, Starburst, Crunch and Nerds.
via The Gunny Sack
Mornings are often associated with alarm clocks, but why not make it fun with balloons? Nothing says "celebration" quite like some streamers and balloons. 
Do you have a back-to-school tradition? Share it in the comments or on Facebook.
This article was updated August 2015
---
Image – Flickr / CC by 2.0
Brittany Marklin is a contributing writer for Learning Liftoff and a community manager for K12. She coordinates all K12 student contests and connects with families who pursue online education. She attended George Mason University, earning a Bachelor of Science degree in marketing, with a minor in tourism and events management. Brittany spent her first five years at K12 on the social media team where she aided with content and strategy for multiple channels, and helped construct K12's user-generated content site, "What's Your Story?" When she's not working, Brittany loves spending time with her husband and daughter in North Carolina.